The final band we caught up with at this year's
Hit The Deck Festival
was the only and only special guests
Young Guns
. We had a good long chat about all things
Young Guns
, music, festivals and fans with lead singer,
Gustav Wood.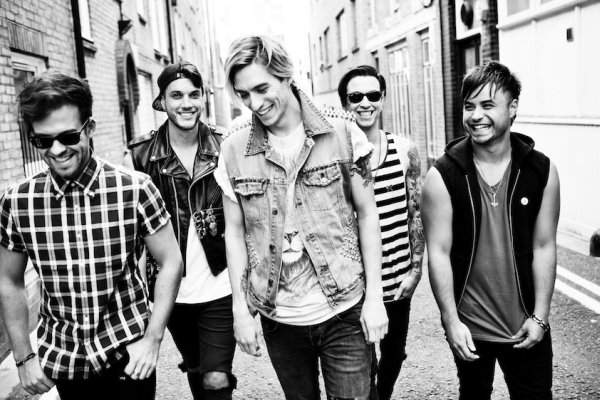 AltSounds: First of all tell us why you're called Young Guns
Gustav:
Becaaaauuuse… well it's a really long and shit story
Altsounds: Anything about the 1988 Bratpack film?
Gustav:
Yes sadly it is something to do with the film, me and
Frazer
started what would become this band quite a long time ago, erm in like 2005 something like that and we were living together and an old band that we'd been in had broken up. So me and
Frazer
went off to start this band and
John
and
Ben
started another band with someone else, and we had a different guitarist and me and
Frazer
and this guy were just writing together, kinda figuring out what we wanted to do and our other guitarist came up with the name one night when we were drunk, and we were all living together and we felt kinda like a gang.
We were going out all the time causing trouble and shit. It just kinda summed up how we felt at the time. Errrm we massively regret it now, but we never changed the name when we had the chance.


This
band really started in 2008 when
Simon
joined, that's when we started writing. But we just never got round to changing the name, things happened so quickly when we released our first EP that it became too late… then you've lost.
AltSounds: So let's talk about Hit The Deck because that's why we're all here. You played last year's festival, how was the reception back then?
Gustav:
Yeh it was mad, we ended up, we had a decision to make last year, we got offered I think initially to play a certain stage, but what we wanted to do was have something really memorable, so we played, we ended up headlining the smallest that there was, I can't remember what it was called. It was just the most manic thing ever, it was one of our favourite shows we've ever done. There was people climbing over each other, it was just chaos, you know… just fantastic, one of our best gig experiences as a band and so it was really good fun last year so we were very excited about the chance to come back and play this year. It's gonna be different tonight because we're gonna play a larger stage, we're special guests that have only just been announced, but it's gonna be good it's a great festival.
AltSounds: As the 'Special Guests,' no less! When did you get the call to be the Special Guests?
Gustav:
2 months ago so it's been really hard to keep it a secret, and we're really bad at keeping secrets, but we managed to do it this time.
AltSounds: You also played Reading festival last year, which happened to be with Guns n' Roses and Queens Of The Stone Age; did you have any backstage experiences with Axl Rose or any divas?
Gustav:
God no not a chance didn't see them! I was really trying to see if I could get a glimpse of them as they walked to the stage because they headlined the main stage the same day that we played, but they close off the whole area so you can't see shit. We also supported
Bon Jovi
and similarly we snook into their sound check and were kicked out after about 2 minutes and that's about the closest we've been to any band of that size. So no diva stories really but by and large most bands you meet guys are really good dudes.
AltSounds: Did you make any new friends at Reading & Leeds?
Gustav:
Yeh I think so, I mean the great thing about festivals is that you often bump into lots of bands that you've played with here or there or before so it's this big kind of where you have loads of mates everywhere.
Reading & Leeds
was no different really, I don't know if we met anyone new at those particular shows but we always know someone kicking around. It's the nice thing about being in a band in the UK it's a big place, but it's not that big so you always know someone.
AltSounds: Has playing Festivals such as Reading & Leeds always been something you guys have initially wanted to achieve?
Gustav:
Well it's something that we've always wanted to do.
Reading Festival
we all grew up relatively close so we all got going to that festival, so to open it was a huge thing. It's always what you wanna be doing it's about playing festivals like that, they are seen as the coolest festivals around and they are, so of course. But I think any band all they want to do is play shows as much as they can, and anywhere and to anyone and that's the same with us we will play anywhere be it anywhere
Reading Festival
or a pub on the corner.
AltSounds: Is there anyone who's stood out as being a favourite band to tour with?
Gustav:
We've just got off tour with
Enter Shikari
and we got on really well with them, that was wicked. Great band and we really kinda connected with them and had a lot of good nights out and all that kinda stuff, so that was cool. We're really good friends with the guys in a band called
All Time Low
,
Yellow Card
,
Lostprophets
guys are really cool, we're going back out with them in Europe in 2 weeks, erm…
The Swellers
,
Deaf Havana
,
Lower Than Atlantis
, there's shitloads.
AltSounds: Your fanbase seems to be quite a young one, do you ever get put off with the kind of attention you get from younger fans?
Gustav:
I don't necessarily think that's true, what I do think is that often your younger kinda section of your fanbase and your audience are the ones that will be a little bit more vocal, the ones that will come up to you or wait for you. I feel really lucky about where we are as a band and because we have people who are 14 years old that are fans of our band but we also have people in their 40s and 50s and I'm really, REALLY happy with the fact that we have quite a wide age spread of people that listen to our band. You'll always get people that are more passionate than others or who wanna meet you more or just watch you at a show or whatever. Whether you're 13, 14, 30 or 40 we don't care, if people wanna say hello that's alright with me.
AltSounds: Is that something you like doing, meeting the fans?
Gustav:
I think it's very, very important yeh. When I was a fan of a band growing up and if I had the chance to meet them that was always a significant thing, and if people are gonna spend time and money and effort on you as a band, that's something that keeps your band afloat and I think it's important to pay that back.
AltSounds: It's funny you say that I think growing up I was always waiting for bands but as you get older you start to grow out of it.
..
Gustav:
Yeh you just get lazy don't you! When I was going you know you'd be in the crowd, in the pit or whatever and now I'll go to a gig and I'll stand at the back with the guys and we'll have a beer and watch it. We enjoy it, it just means our tastes and what we wanna do at a show changes and we respect that, it's like if there's people at the back watching us that aren't gonna stick around afterwards that's fine. If there's people at the front and their jumping around and they're gonna wait 2 hours or however long to see us after the show you have to make sure that you appreciate that, and respect both of those things.
AltSounds: Your new album is in the top 20, do you have a favourite song off there to play live? Or is there a favourite old song to play?
Gustav:
Well I think at the moment we're enjoying playing the new stuff because it's newer, we've obviously played most of the old stuff for a couple of years now. We're still yet to play a handful of songs off the new record, the album's only been out for 2 months and we did a headline tour as the album was released so we didn't want to play too much off the new record then because it wasn't out. We'll be playing a new one tonight that we haven't played yet, I think tonight the set is 5 new and 5 old and then we'll do a headline one in October and do more newer songs then.
AltSounds: So you'll be returning in October?
Gustav:
Doing a big headline tour in the UK and Europe
WATCH// New Single - 'Dearly Departed'


AltSounds: Future plans? Obviously you recently released your new album is there a set time when you play to record more new material?
Gustav:
We're at that stage when we're kinda discussing ideas for the next record now and where we wanna take it and what we wanna do with, it's still very very early but we're really excited and I think the second album opened a lot of new doors for us and we wanna capitalize on that. We wanna get it out as quick as we can, but we also have to make sure that we're touring '
Bones
' properly and giving it and working it hard because it's so new. All that stuff will come later down the line.
AltSounds: So you're always writing?
Gustav:
We're always putting little ideas down on the computing, or I'm always writing lyrics and stuff stockpiling, we tend to always do that and then when we actually sit down and have time off and discuss and plan the record itself that's when we kinda fully switch on. Probably try and going away somewhere every few weeks this year and actually begin, properly, the demo process.
AltSounds: If you could describe Young Guns in a few words what would you say?
Gustav:
Errrr….hardworking…messy, err too old [laughs], determined and obviously really good, yeh.
Young Guns will be touring in October with support from We Are The In Crowd and Your Demise.


Interview by Jake Edwards and Anthony Lee.