Δ
, or
alt-J
, are one of the most exciting new bands around at the moment, creating a fresh electro-indie sound. Their debut,
An Awesome Wave
, is probably the best debut of the year so far. They played on the Lake Stage at
Latitude
on the Friday and
AltSounds
caught up with lead singer,
Joe Newman
, and synth player,
Gus Unger-Hamilton
, earlier in the day, to talk about everything from their tour with
Wild Beasts
, to them exposing themselves.
AltSounds: To start things off, what is going on with the obsession with triangles?
Joe
: Well, we donít really have an obsession with triangles - I think I just spoke about it in '
Tessellate
,' and it was more of an analogy for sex, because thatís what the song is about .
Δ
(
alt-J
) really just came about because it was a name we liked and it was an idea we liked, and itís technically a delta sign, not a triangle.
Gus
: Weíve got pretty good at answering this question now, haha!
Joe
: Yeah I suppose, if I could chose a shape, it would probably be a triangle but, I donít know, Iím quite fickle so in the future I may change to circles or squares. I just donít know.
WATCH:// 'Tessellate'
AltSounds: Youíve recently been on tour with Wild Beasts, what was it like playing with them?
Joe:
Theyíre amazing - really good guys, amazing performers, charming, friendly, and we learnt quite a lot, didnít we?
Gus:
Yeah, I think watching them play every night was quite inspiring for us, because they know what they are doing and are really on it in terms of their stage craft, theyíve really honed it. So, to a fledgling band like us, especially at the time because we hadnít played many gigs at that stage, it was quite incredible for us to watch those pros doing it every night.
AltSounds: How much do you think that tour, and the tour with Ghostpoet, raised your profile?
Joe:
I think it definitely raised our profile quite a lot. When we were playing with
Wild Beasts
we were playing to an average of a thousand people a night and we were playing for seven nights in a row, so we reached 7000 people in a week. The reaction that we got, every day we played, was really, really good.
Ghostpoet
has got a great following, so the same thing happened there, so I think it did boost our profile in cities weíd never played in.
AltSounds: Youíre credited with creating a new genre, called ĎFolkstepí, what influenced you in creating that sound?
Gus:
We didnít really consciously create a new genre or new music - ĎFolkstepí is something that someone else said and itís just stuck with us - it dogs us a bit, that one. We make music really just for the four of us, we donít really have any other motives apart from making music that all four of us like and find interesting. Luckily, other people like it too.
Joe: Now, itís to an extant where people are like ď
Where did you get that sound from?
Ē Our ambition wasnít to create a new genre, it was just to write music that we liked.
AltSounds: Do you think that other bands will try to follow that sound though?
Gus:
I hope, if anything, bands who are not where we are now maybe take the lesson, that you should make the music that you like and to do it only for yourself.
Joe:
Donít think about writing music that you think other people will like. Think about writing music that you like because, if you donít do that, then why are you writing music in the first place? Itís silly.
AltSounds: Youíre also said to be pushing the boundaries of music, what other bands do you think are doing that?
Gus:
I think a band like
Radiohead
- itís a classic example, but theyíve stayed an interesting, relevant and popular band for almost twenty years - thatís pretty inspiring to a band like us.
AltSounds: You exploded onto the scene pretty quickly. Were you surprised by the buzz around you?
Joe:
I donít think we ever thought about the buzz, so I donít think we were that surprised. When we first started playing, the reaction that we got didnít surprise us, but it was a nice feeling where people were saying that we were really good, and we were like ď
Oh great, you like us? Brilliant, well letís keep going
.Ē
Gus:
I think, because we lived in Leeds at the time we were getting this buzz, we didnít really know we were getting buzz at all. Weíd meet up with our manager and heíd be like ď
Christ! Everyone is talking about you guys!
Ēand weíd be like ď
In London, maybe, but not in Leeds.
Ē We were quite sheltered and that which was a good thing for us, I guess.
WATCH:// 'Breezeblocks'
AltSounds: How important has social media been to your expansion?
Joe:
Itís really important! The other day we got tweeted by
Harry Styles
and heís got five million followers, and then that got retweeted, by his followers, 4000 times. That is a massive platform for us in terms of exposure. We are of the kind of mindset that any sort of exposure is good exposure, as long as weíre not saying racist things or being violent...
Gus:
Or exposing ourselves!
Joe:
Yeah, or exposing ourselves. If any side of the music industry or any celebrity is supporting us, then itís great, because the more people will hear our music. Social media - invaluable.
AltSounds: Everyone seems to agree that your debut, An Awesome Wave, was well rounded, where is your music going to progress from here?
Joe:
Who knows? I think thatís the thing, we donít think about it too much, donít worry about where itís going to go, we just enjoy those moments where we are writing together and weíre in a bubble and weíll write in that bubble. We wonít think too much about the future, where we want it to go and where it should go. When you start to predict things, again, thatís where it starts to fall apart - weíre just going to enjoy what we do, day by day.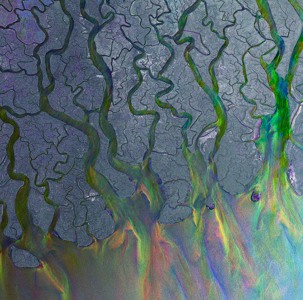 AltSounds: Youíve played quite a few festivals so far, how does Latitude compare?
Joe:
Well, Iíve never been to
Latitude
, and itís amazing! The scenery is fantastic, in the Suffolk countryside. There is such a wide range of demographics coming into the festival, and itís so family orientated. There are loads of other things going on as well as music; there are literary corners and stuff, and the performances going on all over the place. Itís a fantastic thing to experience, just creative people, not just on the music side of things. Itís amazing - really, really good.
AltSounds: How long are you here for? Are you planning to see any other bands?
Gus:
Unfortunately, we have to leave after our set - we have to be somewhere tomorrow morning, to play somewhere else. Thatís the life of a band, unfortunately. Sometimes you get to stick around for a bit, but not often, which is a real shame. If we are free next year, I am going to come back as a punter, definitely.
Joe:
I want to come back as a punter! I want to play and then stick as a punter!
Gus:
Alright! Letís do that! That way we get free tickets as well. Sweet.
AltSounds: Youíve got a busy year coming up, with your headline tour and other festivals, what are you most excited for?
Joe:
Iím looking forward to playing, Iím looking forward to writing as well - weíre always writing new material. Iím looking forward to the whole package really. Going to America is going to be amazing for us, such an amazing experience. The opportunity to work on the live performance as well and get better and better - incorporating other things into the performance and not just trying to play the album and making our live sound be like the album. Iím really excited!
As are we at AltSounds! alt-J are definitely one to watch out for!