Competitive cycling has taken the UK by storm just recently, largely due to a one man piston limbed, lamb-chop side-burned cycling powerhouse who goes by the name Bradley Wiggins!

Men want to be him, women want to wear his sideburns as thigh warmers, probably. The guy has been racing since the age of 12, twenty years later here in 2012 he became the first British rider to win the Tour De France in its 99 year history.He also became the UK's most decorated Olympian after picking up Gold in the Mens Cycling Time Trials at London 2012 this week.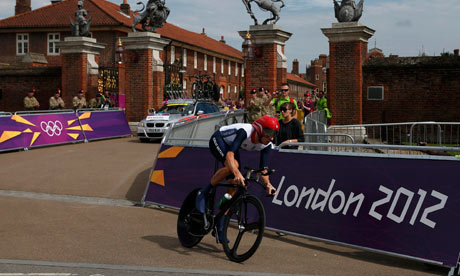 So Friday is dedicated to
Wiggo
LISTEN // Tour De France Remix
The Story
Originally released in 1983, this track saw a melodic departure for
Germany
's pioneering electro frowners
Kraftwerk
. Their earlier material was of a more robotic, metallic nature, very unfeeling if you will. Then came
'Tour De France'
, with its aural passion shining through. The samples of cycling noises along with the rhythmic beat and sweeping synths mirror a cycling race perfectly.
The Remix featured here came along a year later in 1984, remixed by the renowned
French Armenian DJ François Kevorkian
, a regular behind the decks at
New York
's (in)famous
Studio 54
. Kevorkian sexed up the track a little, making it an 80's Break Dance classic.
Happy Friday peoples. Now, ON YOUR BIKE!