CANADIAN MUSIC WEEK 2009
PART ONE
To start things off, this year's Canadian Music Week had so many great bands at the same time; it was so hard to pick the bands to check out. I scheduled a few and played it by ear, everyone who has done a festival such as this before; all know too well the schedule you make is never followed. There were a number of fabulous people I met and talked to and overall had an amazing time during CMW I think it was the best yet! To those that don't know what Canadian Music Week is about, here's a little breakdown plain and simple. Every year right before South By Southwest, Canadian's have a whole week to Celebrate Canadian Talent and showcase hundreds of bands including international artists. Most in the Canadian Entertainment industry and a few international migrate together for five award shows, a film festival, and five hundred bands at 45 venues across Downtown Toronto. This is what I love about my city; there is a variety of live music every night at different venues and when the festivals come around they are serious! Anyone who has been to Toronto for any festival knows what I am saying! Usually I don't cover award shows because they bore me and are a media circus. I tend to stay away but since they moved the Indies (Independent Music Awards) to a new venue in 2008. I chose to hit up only one award show and that was 'The Indies', more about the Indie's later.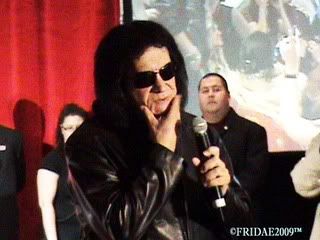 I caught a slice of CMW's most sought after Keynote Speaker; Gene Simmons of Kiss. He visited Toronto a few times lately, all in search of bands and artists to sign onto his label. I didn't get an interview with him not surprised wasn't expecting to, everyone wanted a piece it was insanity! I arrived just in time to catch the last half of Gene's Media Conference Q&A, completely missed the keynote. Although I missed my chance to ask a question at the Q&A I was entertained by a few of the so called "professionals" who were completely tongue tied and intimidated when Gene was in their presence, it was jokes! I honestly thought he was on the stage but once I realized that Gene was on the floor and not on the stage it was crazy how tall this Larry is and he wasn't even wearing the platform boots! I must say his brillo pad hair definitely adds a few inches! What Gene's looking for in an artist is someone who will blow everyone away, he wants bigger than Kelly Clarkson, Britney, Kiss etc...You get the drift. He wants bands and artists who have quality and quantity. He was bitching about how "These days most artists have no fucking clue how to read notes, they don't know the theory or the history." Honestly, maybe some people are dyslexic when it comes to the notes; they have ear training for a reason! I do get what he's saying but he also contradicts himself when he says he would want another 'Jon-ass ' brothers.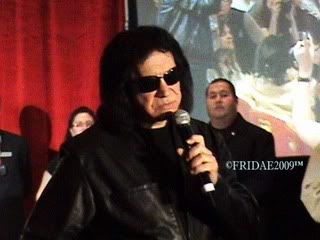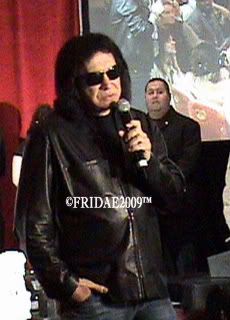 Yet to actually meet Gene to jibber face to face, I didn't even bother trying to talk to him. Far too many people on him like vultures fighting over a corpse in the desert. There were so many fans in the migration area fresh from the Simmons Keynote address when I was arriving. More than enough were wearing t-shirts and other Kiss merchandise, some even had the makeup done! I always heard Kiss fans were hardcore Greenies and Teenies! He's just a dude! An old man right now! I never got why people trip so hard when it comes to successful people in any industry. Talented or not people trip hard, still don't know why, I never get a straight answer when I ask. If I really wanted to jibber to him I would have, I already met Paul Stanley back in 1998 when I was 16 that is good enough for me. If you want to meet them all go ahead and try! Kiss announced they will be going back on tour and they are letting the fans route the cities they will hit up for their tour.
LARA LAVI & JOHN PAYNE
Enough about the Kiss larries let's move on to the fabulous people I met the day before; Ms. Lara Lavi (CEO/President - Wideawake Deathrow LLC) and John Payne (Senior Vice President - Wideawake Deathrow LLC) for those that don't know Ms. Lavi's Company WIDEawake Entertainment group recently acquired DEATH ROW Records assets through a U.S Federal bankruptcy auction for 18 Million Dollars. I thought I was only going to speak with Ms. Lavi but Mr. S.VP John Payne was going to jibber with me as well. For those that don't know Mr. Payne was with Deathrow from the old school days and Ms. Lavi only thought it was natural to have him as a part of the team they had each other at "Hello" according to Ms. Lavi. From talking to them they seem to have a solid plan to resurrect Deathrow, I believe them! They were so warm and down to earth filled with passion. Ms. Lavi and Mr. Payne care about Deathrow and its artists, the compassion was distinct and they both want everyone to know they give all Deathrow artists past and present a FULL PARDON, everyone will be getting what they worked so hard for. All of the people I met at CMW are amazing and full of vitality and enthusiasm. The music industry is not dead the new wave has just begun! Keep it locked right here for the interview with Ms. Lavi and Mr. Payne it will be up in the future! I also spoke with Wideawake's first artist 'Sean Jones' a former member of the Canadian group "In Essence" who have disbanded. Sean Jones is now doing a solo thing and is extremely happy; his music is "Soul over Rock" as he likes to call it.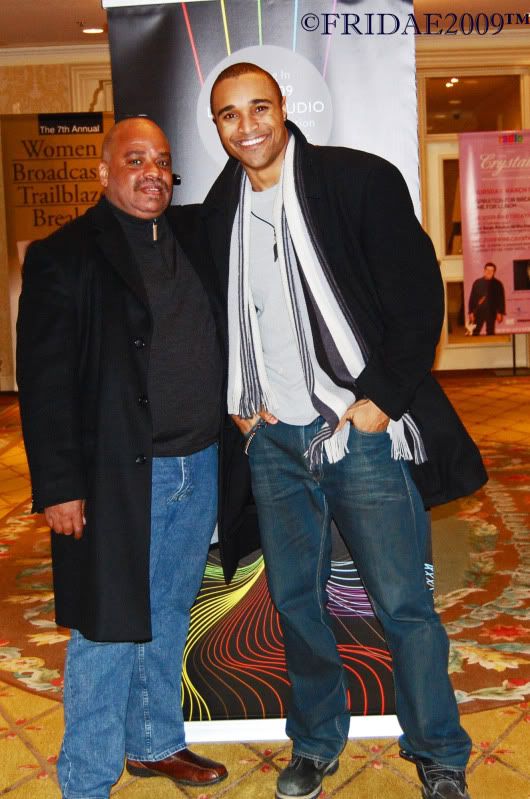 JOHN PAYNE & SEAN JONES
Jones' sound is R&B Soul with a rock blend, at first when I heard his tunes on myspace I really wasn't feeling two out of the three tracks because they sound unfinished there are a few elements that are missing to my ear. Naturally I was curious to see how he sounded and performed live, so I went to check him out at The Revival where he was performing with a full band. He also had another set at the Royal York's Library bar but that was to be an acoustic set. Waiting for the streetcar killed me! I thought I was going to miss Jones' set because the streetcar always takes forever on College Street so I walked it! The same trek every music festival, always a problem on College seriously TTC wake up! They get paid so much money and the service is lacking severely! I refuse to take a cab unless there is no other option and time is beyond limited!
I arrived at the semi packed Revival to see they were just setting up, I was extremely ecstatic I made it! Finally after what seemed like hours of setting up, Ms. Lavi introduced him and Sean Jones and his band took the stage. The intro felt like it dragged too long for a small venue. Usually those types of intros are done at arena shows to heighten the anticipation. Eventually he started singing; the first tune was 'This is Love' the title track to his seven track EP. Sean started out strong but his vocals were off key at times, he needs to work on the vocals. It was sounding as if he was shouting over the band during the chorus's making his vocals come off as strained. Maybe he couldn't hear himself but he needs to work on the vocals most definitely. Other than that Jones is not bad, he writes his material and his tune "2 Wrongs" is pretty catchy, I can hear that on radio in the future. There is a charisma about him when he's on stage, as soon as he warmed up and became comfortable everything fell into a decent place.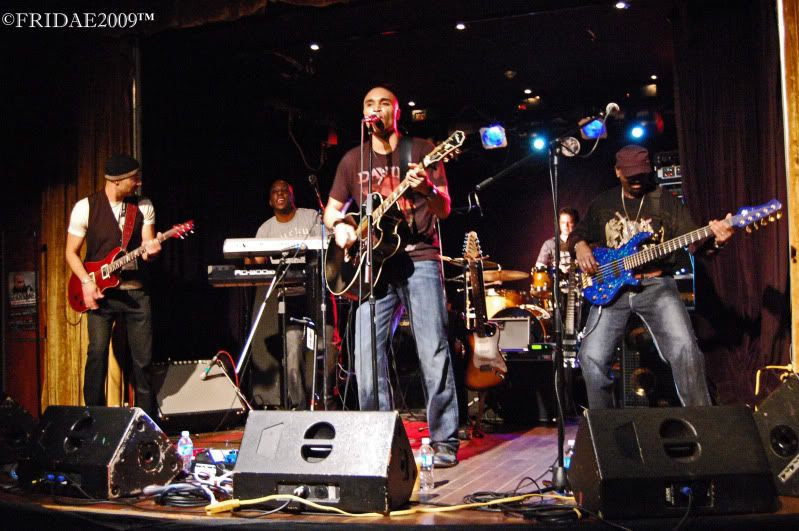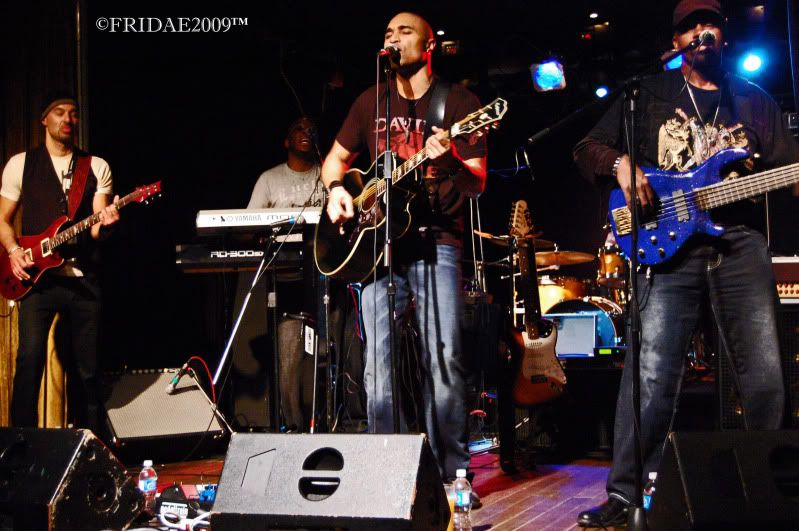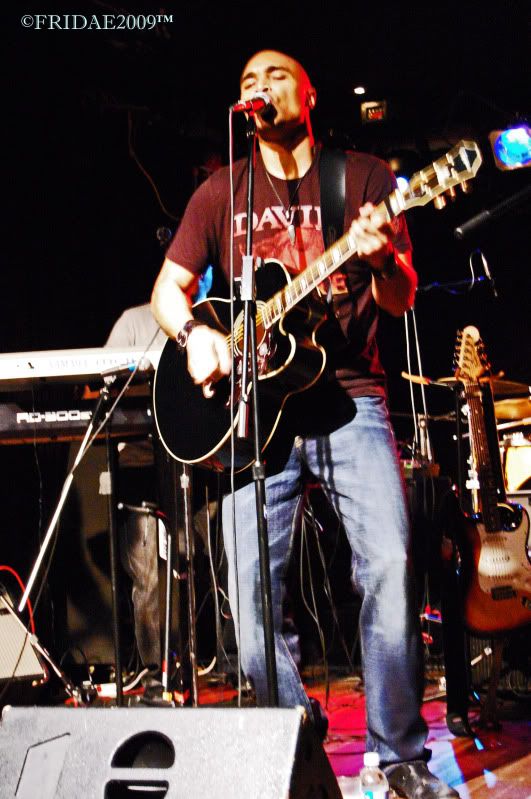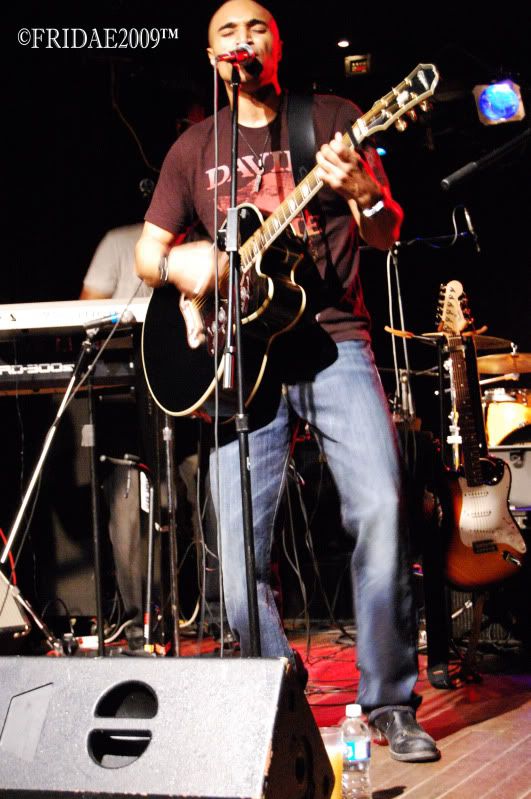 After a few tracks it was off to see the "3TARDS" at the Kathedral or so I thought! I arrived at the Kathedral and there was another band on stage and that band my ears did not like! Thank God the lead vocalist announced the next tune would be their last. I asked the door chick when 'The 3Tards' were coming on, she told me they already played! I was a little disappointed I missed them again! So not meant to see this band along with a few others I always miss! I went to the Reverb for a minute to check out the scene at the Roadrunner Records Showcase. They were still setting up so I bounced back to the Kathedral to check the band after the retched sounds got off stage. As soon as I entered, I walked back out, no thanks to the emo sounding Hedley ass that was on stage. Off to the Bovine to catch what I could of 'Turbowolf' a band I just picked out of the list. I knew it was going to be rammed; walking into the Bovine was like stepping into a sardine can with hundreds of dancing sardines already in the can. Always a good thing for any club and most of the clubs I hit up were either over capacity with a massive line outside or not letting anyone else in. At Maximum capacity was most, a drastic difference from last year.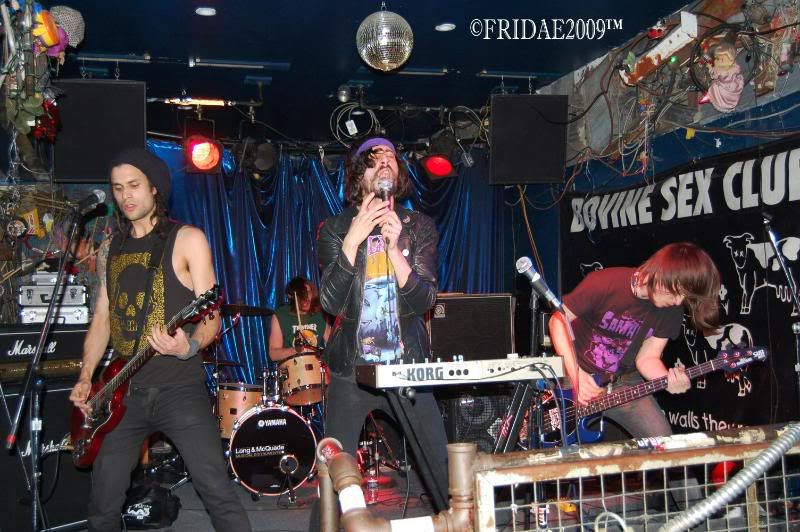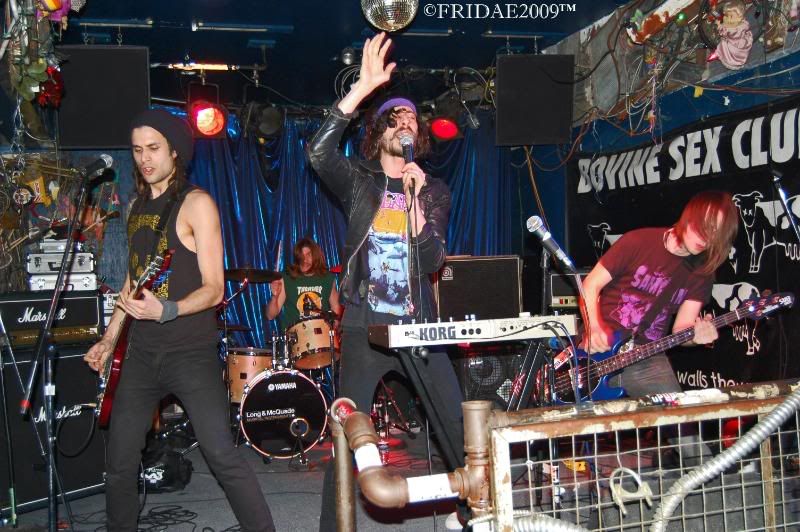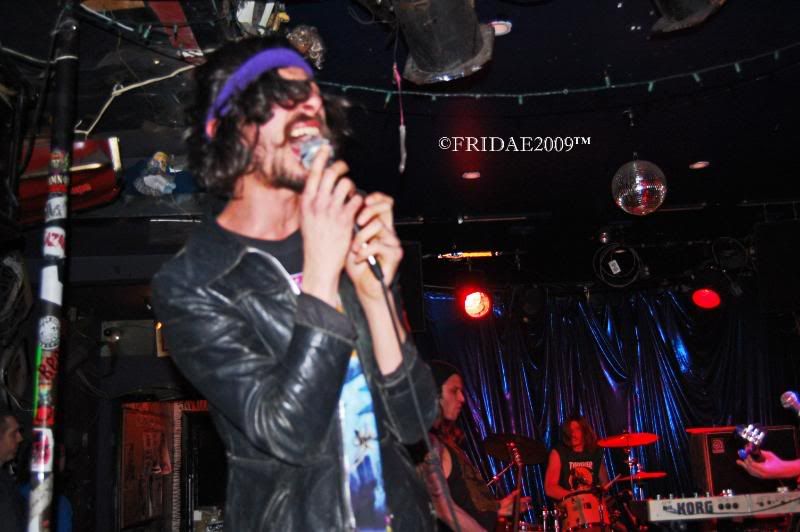 Turbowolf was already on and I actually made it to catch a few tunes! There was so much energy on stage it was spreading into the crowd, they loved Turbowolf! Rock and Roll!! Now this is what we have been missing, some extremely refreshing sounds! The showmanship of every member of the band was clearly identifiable. These larries obviously loved being up on that stage, showing vividly in their eccentric performance, not a care in the world no matter how tiny the stage or venue was. Turbowolf's sound has an old rustic vibe mixing in a new crispy electric edge with a carefree attitude. They embody the rock and roll spirit with a touch of chaotic inventiveness that is misplaced in many bands. Vocals were insane! Front Larrie was playing the keyboard as he was belting out the tunes adding to the unique flavour this band has. My ears were thoroughly enjoying this fresh band; it was as if they weren't even trying! So glad I chose to see Turbowolf, hopefully will see them again! 'TURBOWOLF' never forget that name! They came to CMW from Bristol UK and will definitely take a bite out of the world!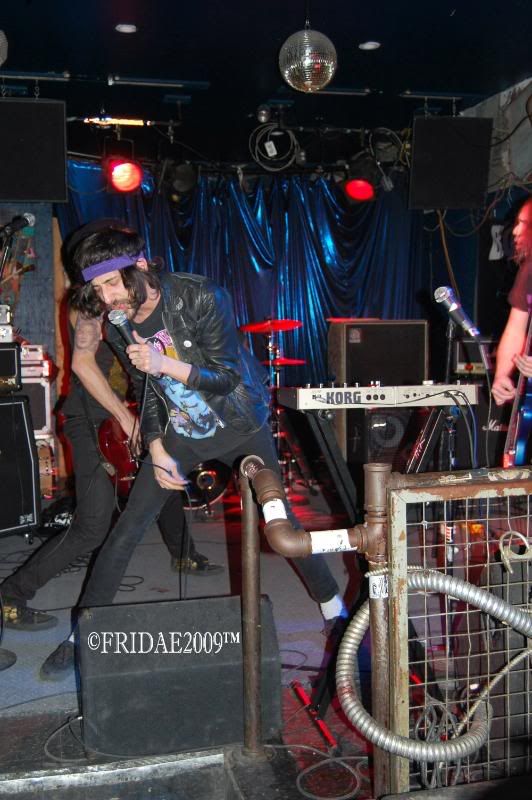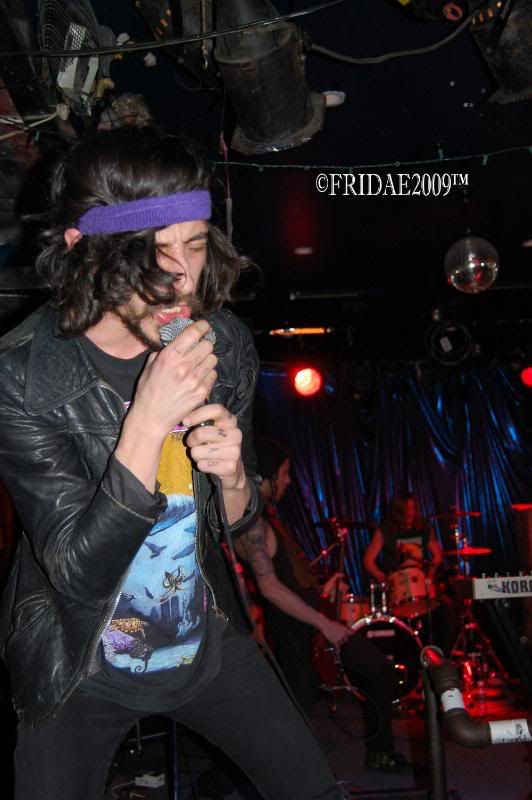 It was so crowded I couldn't even see the pole in the back room of the Bovine! That was my cue to exit. Back to the Reverb just across the street to hear and see what was poppin' over there. A band called 'Dommin' migrating from Los Angeles California was on stage. I have never heard of them before, nor had I heard their tunes. Could not help myself but laugh when I saw the lead Larries' hair, it was too funny! That was an extreme turn off, is it supposed to be his trademark? From what I picked up he was broadcasting with his hair, how hard he was trying to be different. Completely contrived was the whole vibe, it didn't come off as natural I could not take him seriously. If you have to try that much to be different, it makes you all the more generic. Gimmicks never work with me I strictly base it on the tunes and performance there was no chemistry with the band they were boring, do something!! The stage is pretty large plenty of room to move compared to the other clubs they were not utilizing the stage to its full potential. As for "Dommin's" sound I was getting this 'Panic at the Disco' meets 'My Chemical Romance' giving birth to 'Scott Stapp's' and 'Eddie Vedder's' babies.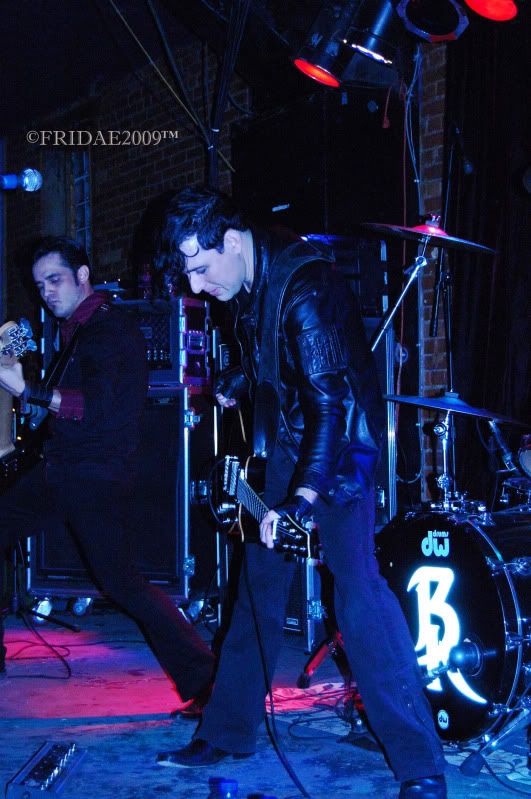 The music was alright, a few of the tracks were making me feel just a little nappy. But, there were a couple of decent tunes. The music stood out more than the vocals, they were sounding very weak during the verses, very pitchy and it seemed like he was struggling to get it out. My ears were not feeling his voice at all; he sounded too much like other people but not doing it better. I really liked a few melodies and chord progressions to a couple of tunes but none were that impressive. It wasn't making me want to hear more of them; I was getting some serious A.D.D. and needed a break from the band. Some of the crowd begged to differ, I would say half the people were interested in the band watching and listening, the other half was more into socializing. It was a completely different vibe than across the street at the Bovine, everyone was partying it up having a great time, and the band was ridiculously exciting. I so should have stayed at the Bovine to watch the rest of Turbowolf's set.
I was eager to see the next group which was to be 'Naughty By Nature', when I missioned about 12 blocks and got to the venue I found out they had a guest list I was unaware of. From what I read on the schedule all passes and wristbands would be accepted but bouncer larrie told me it wasn't a CMW venue that night however I could still see the show if I bought a ticket. I told him thanks, but no thanks, no need to put up a fight. It was going to be insane inside anyway and I was only to check a few tunes then dip to catch other bands, not worth it to me. I wandered over to the Rivoli where 'Our Lady Peace' was playing a set but I came to see "Inward Eye" at 1 A.M not OLP. Either way, once I got to the venue it was packed to capacity and door larrie wasn't letting anyone else in that wasn't there earlier. So much for seeing Inward Eye! They can thank OLP for that one. The trick with the venues that reach capacity is to get there early and stay there all night. Not my thing I need to wander about because not every performance is a good one and I'd rather be off in another venue checking out a band that has potential. I was debating on going to the Shoe but it was packed as was every venue on the Queen Street strip. Then I remembered "State of Shock" was playing the Tattoo Rock Parlour, so I booked it and off it was to check 'SOS' at the Tattoo down the street.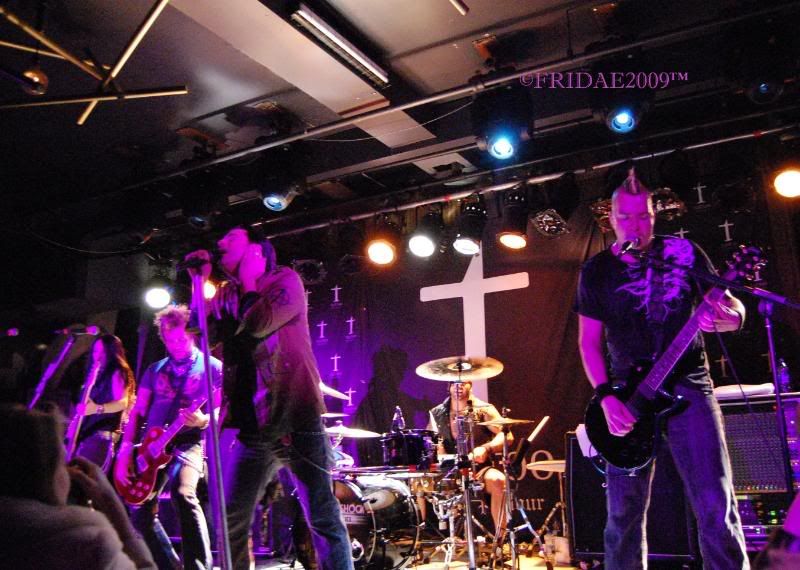 Have yet to see this band live but have heard them on the radio from time, now it was time to find out why they got signed and if they are good live. The Tattoo had a good size crowd, it wasn't as crazy as the other few venues, there was maybe two other media people the rest were industry people, fans or randoms. I think most of the media folk were at the Rivoli checking OLP's special guest performance; of course they hit up the veterans but what about the new talent? The geezers have had their time in the spotlight let's give a chance to the rookies! That is what I do; always give the newbies a shot although SOS has been around for a while now. The band is from Vancouver and has four larries and a lady. The tune they were playing was off their first LP 'Guilty By Association' dropped in 2004. I like that record better it had more of an edge as opposed to the latest LP 'Life, Love & Lies' it has fluffier radio friendly tracks with a few hidden surprises.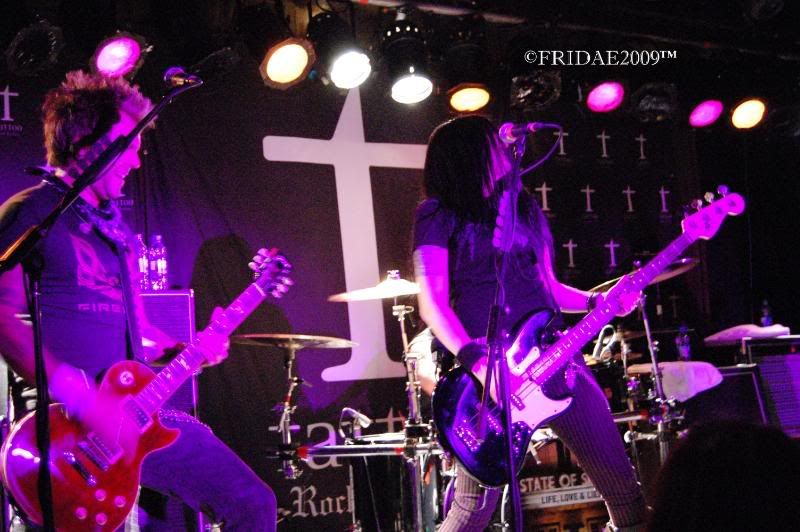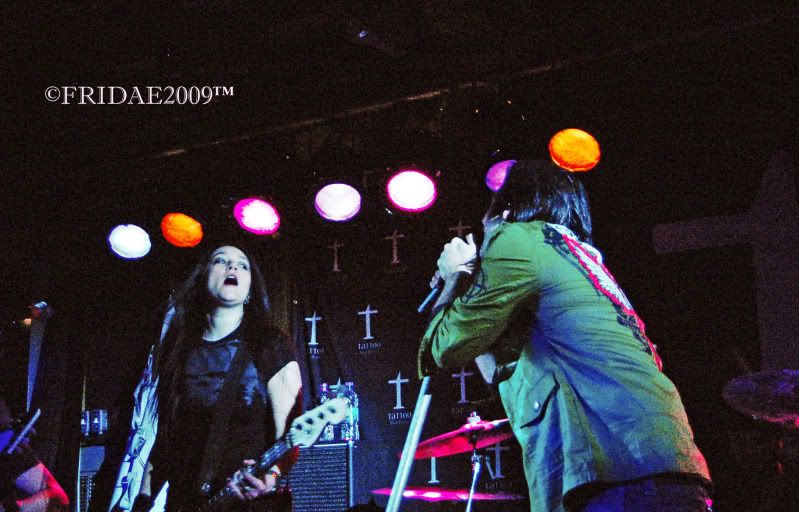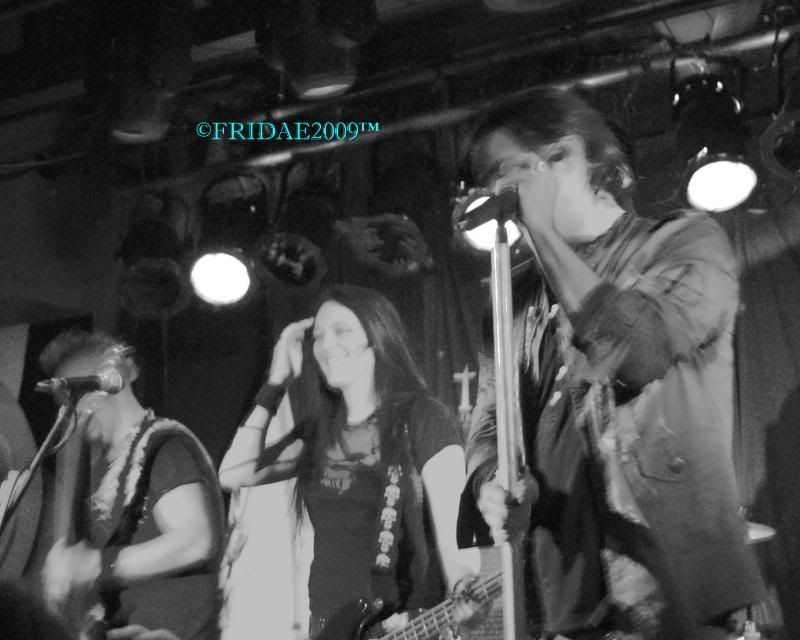 'Rollin' is the name of the tune I caught first and I loved it. Front Larrie Cameron Melnyk has a sick voice it has a solid tone with grit and versatility. The only thing he needs to watch out for is the Nickelitis, near the end of the set in particular during the tune "Money Honey" he sounded too much like a Kroeger Stapp replica. Other than that he can sing in my ear any day, I like. The band killed it! They were tight with everything! Harmonies were concrete, the executions, the sound, the communication between one another, everything was what I wanted to hear and see. What a huge difference from a few bands I checked out that night, the only other good band was 'Turbowolf. These SOS larries were straight up no nonsense rock and roll. Of course there were the technical difficulties; every time I check a band at the Tattoo the sound is messed up but most bands manage to pull it off. SOS did their thang, at times front larrie Cameron looked as if he was trying to hear himself, as does every other vocalist who has sang on that stage. The band is wicked, Guitars were disgustingly amazing, dude on the dual neck tore it up! His name is Jesse Wainwright, then there is Simon Claw aka Kadooh also on the Axe, he shredded those strings severely. Mad props to the only female in the band the Bassist Alison Towes aka Alley, she fucken rocked the long neck holding it down for the ladies!! And let's not forget Mr. Drummer man John Philippon who beat down those cans mashing them up!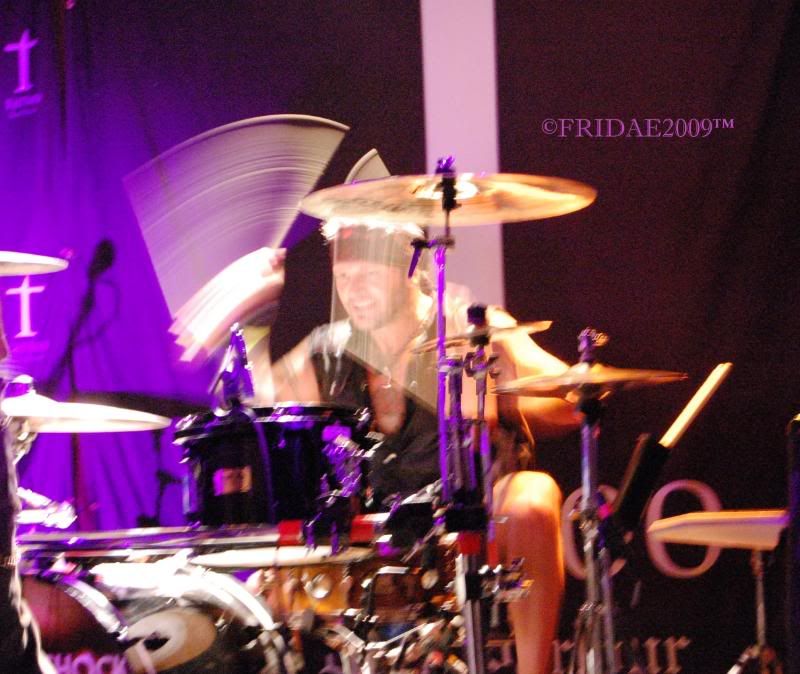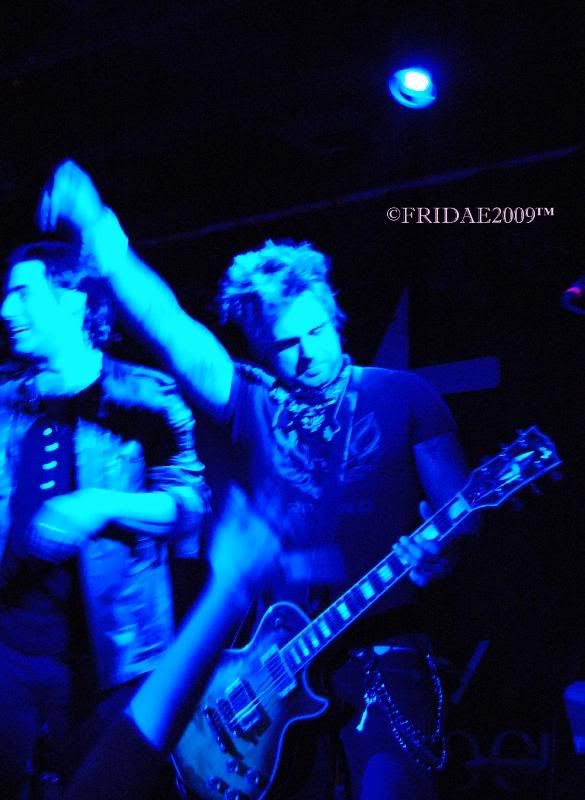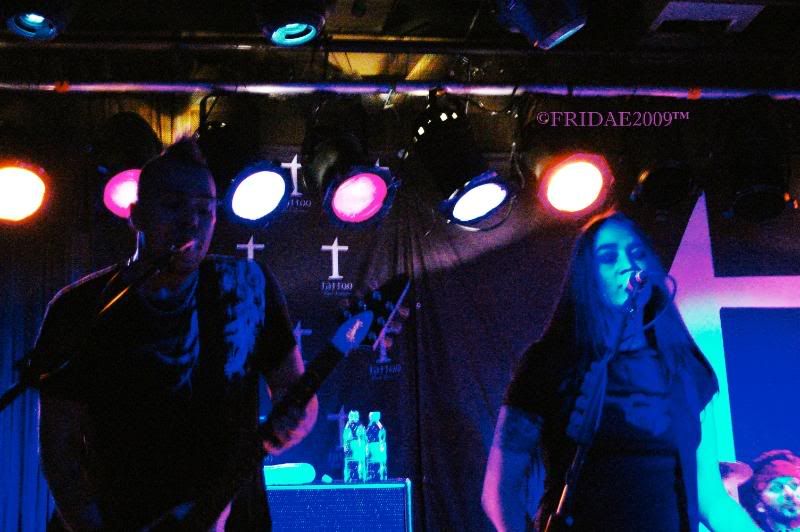 Everyone in the band except Philippon contributes to the backup vocals. They all sound in unison when harmonizing with lead vox complimenting each other. That is what I am talking about! So many bands lack that, they don't help the singer when they really should! It gives the tunes a nice rounded complete sound and everyone is participating to the fullest. I understand why they got signed! The whole band gives out charisma, attentively entertaining the audience working the stage, giving them what they want. SOS is just as good live as they are on record. Actually I think they are untamed live which I like better, on record it dims the raw edge they have in a live performance. By the end of the set everyone in the venue was singing along with the band on their feet loving the State Of Shock tunes. The band kept the party going and kicked it with the crowd after their set, showing how down to earth they are, still Indie at heart.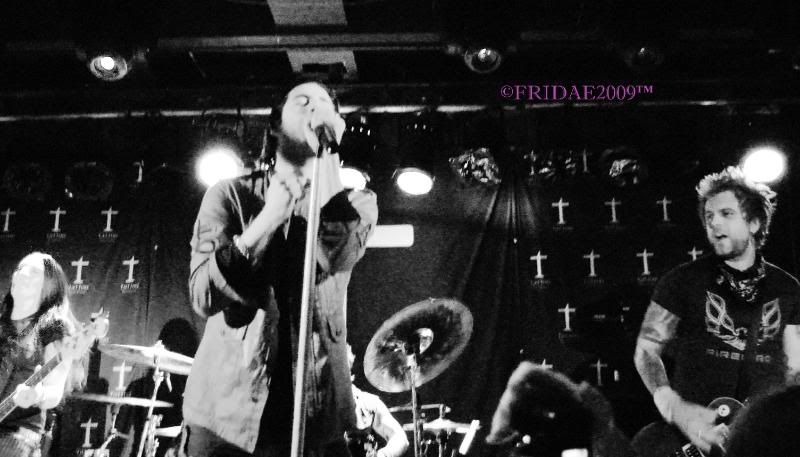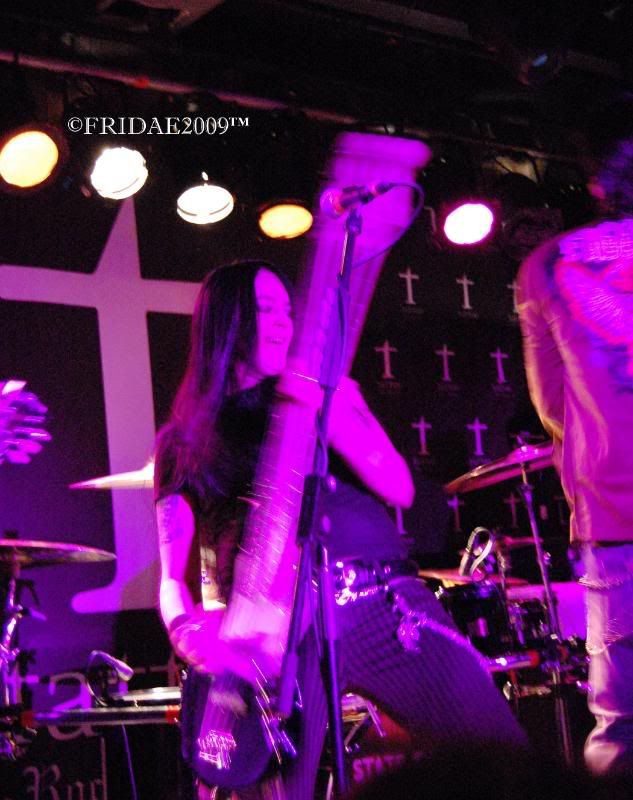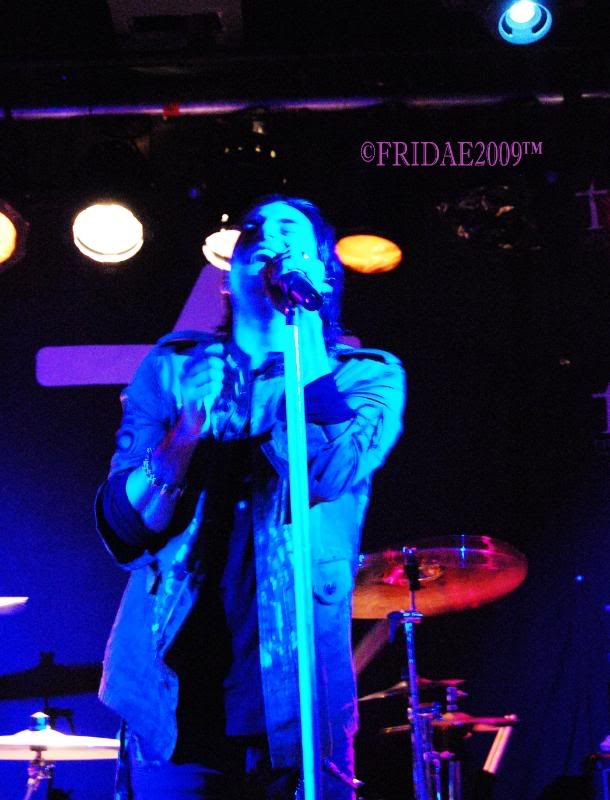 That is where the work ended for me, this year I played and worked. I usually just work but I found the energy to do both and it was a very good choice! There you have it, the whittled down first half of CMW 2009, surprisingly I did not get into any fights way to go me! Everyone was very nice, it was a little odd at times and wow some people have serious staring problems! Keep it locked right here to Altsounds for Part TWO!!!!
©FRIDAE2009™
www.cmw.net
www.genesimmons.com
www.wideawakehc.com