I always felt that tonight would be a special night. Something different and something unique to any other concert I had been to. I started being interested in the work of Bonamassa a couple of years ago when a friend lent me a DVD of the man himself, playing live to a small, smoky club, full to capacity in awe of one of the most talented and underrated blues-rock guitarists on the planet. I'm not going to confess to knowing every song Bonamassa has written, because there are numerous albums, spanning across decades. But what I do know, is this man is a talent, waiting in the wings, ready to unleash his musical gift on London's audience.
Walking through the doors of the Apollo, I thought I had stepped into a business corporate event, or an up market convention. I have never seen so many males in full suits at any concert. Already there was a vibe and atmosphere that suggested tonight was not going to be about sweaty youths bouncing off of each other and causing frenzied pits, but rather a showcase of skill and ability. Entering the standing area just in time to catch support act, Sandi Thom, remember her? It was clear that she had gone down well with the crowd, as they applauded appreciatively as she closed her set. Believe me, the venue was already packed and I didn't even stop to question where the people at the bar where planning to stand, because from what I saw, there was very little room left.
Needless to say, I found my position down the front as the introductory music of Iron Maiden's – '2 Minutes to Midnight' arrived over the PA system. The sound man obviously knew it was time for action, because it was pumping out of the speakers as if Maiden were on stage. Loud and heavy, there was a stir of individuals joining in with the words, but perhaps not as many in comparison to a metal concert; where that song seems to get everyone lively. 8:25pm and five minutes until show time, Bonamassa walks on stage, guitar in hand and ready to rock. Another first time for me as well! Have you ever seen an act begin their set early? It's so 'rock and roll' these days to be late and keep the crowd murmuring, but it's more respectful to get out there and begin playing.
Joe hits the stage in a suave silver suit, with his counterparts looking equally classy, with keyboardist Rick Melick donning a Zebra print, open neck shirt and hat, Carmine Rojas on bass (still wearing his eyepatch after more recent surgery) and Mr Bogie Bowles sporting a small drum kit and looking fresh faced before this two hour masterclass. The opening track is slick and well-polished, as Bonamassa walks back and forth in front of the crowd and their cheers respond the closer he gets to them. A double-neck electric guitar set's off the 'look' of the band perfectly and there is no doubt that Joe is the finest dressed man in the room. He uses his stage set-up, to walk up a ramp, onto a higher level (situated behind the drummer). At this point he makes use of a piece of equipment which you don't see used to much anymore; the Theremin. Interestingly, he uses it in combination with his guitar, complimenting, rather than overshadowing his gifted playing. Exchanging his double-neck (one of many guitar changes In the evening), Joe uses a Gold coloured Gibson to pull off another lush and smooth performance. Playing primarily with his fingers, instead of a plectrum, the man is a true genius. Not a bum note in site and beyond the realms of precision, he would make any budding guitarist feel like they had a speck of talent in comparison. The Drum beats are trendy and bluesy, achieving everything I would expect from the genre Bonamassa resides within.
An emotional and concise rendition of 'If Heartaches Were Nickels' showed perfection. What followed had me in awe of Joe's extreme power of the 5,000 strong crowd. Playing a beautiful and heartfelt guitar solo, utilising his volume control on his guitar for an inspirational performance. What took my breath-away was his ability to literally SILENCE the audience. You won't believe me, but I have never heard a crowd so quiet. It was quite an amazing experience to be a part of. Each time Joe left a pause and looked over his darkened glasses, the cheering and whooping arrived from the back in a tidal wave of appreciation and mesmerised feeling. My favourite electric guitar song of the set and of Bonamassa's back catalogue of work, is 'Sloe Gin', which is absolutely beautiful in every way.
I've tracked down a video from 2009 showing the song in its entirety.
Joe continues his set with a number of guitar changes and just after an hour into the set, he reveals his wood-effect Explorer shaped axe. He is sounding raunchier and heavier than ever, still in keeping with his desired sound and the band respond to any impromptu riffs and licks he throws in. One thing you will see if you manage to witness this group live, is the constant communication, whether through eye contact or smiles, which tells me as an audience member and fan that they truly are passionate and doing what they love.
Bonamassa also welcomes Ian Anderson to the stage this evening, after he remarks that "Ten years ago, almost to the day, we were just a band in a van, following around the greats of our time; Jethro Tull". He continues to tell us that tonight's performance marks the largest crowd he has ever played too, exceeding 5,000 people. The roars, cheers and standing ovation (for those sitting down) are all in recognition of welcoming such an extreme talent to the Apollo. Anderson pulls off stunning flute work, alongside Bonamassa, in a sort of duel. Two songs are completed by the duo and both look equally pleased to be in each other's company. Anderson steps up to the mic and says "Joe, you are a real talent and I would happily shine your suit any time" – laughs echo around the venue as Ian departs. A real honour to be in the presence of such a great.
The set continues and Bonamassa exchanges his electric guitar for an acoustic. Wow, once this beauty if plugged in, it sounds incredibly crisp and sweet with tonality. The way Joe controls the strings and the depth of volume is amazing. He explores the depth of the guitar, blending softer and louder sections with ease, as the audience respond favourably. The song in question is entitled 'Woke Up Dreaming', which you will find a clip of below. You'd be hard pushed to find many players who handle an acoustic with such effortless ease.
Woke Up Dreaming:
And I know that I am pummelling this review with video links all over the place, but I can't talk about 'Woke Up Dreaming' without including the very first YouTube clip which got me interested in Joe Bonamassa. I was sent a link to this song back in 2006 and it was a real turning point for me, in both my approach to guitar playing and in becoming a fan of Joe. When a man walks into a CD store, grabs a borrowed acoustic and pulls this off, it is quite stunning indeed.
The set continues as Joe delves into a classic song, 'Young Man Blues', made famous by The Who during their Live at Leeds set. It took me a few moments to realise what he was playing, but this is the type of crowd who whisper (loudly) to each other song names with each introductory passage, so I have to admit, I stole this song title from the unwitting crowd member in front! Either way, its a really stunning track and brilliant to see it showcased in such professional passion on this evening in May. Drink was flowing and suits were thrown over one's shoulder as the evening was drawing to a close. You can't say that you didn't get your monies worth, as the set was nearing the 2-hour mark with a few songs still left.
Closing with 'Just Got Paid', he includes snippets and solo's from Led Zeppelins 'Dazed and Confused' – a truly memorable feat, which as per Bonamassa style and skill is note and pitch perfect. A man who uses very little in the way of effects and yet delivers something spectacular. He re-introduced the Theremin once more and we witness a man whose ability and skill knows no bounds. He is a gifted musician and a man with great dress sense and style. A standing ovation to you sir.
'Just got paid'
Just in case any mini-massa's are out there, perfecting their craft in order to take the crown in year's to come. If ever your parents tell you that you have too many guitars or that one is enough, show them this picture. Bonamassa has spoken: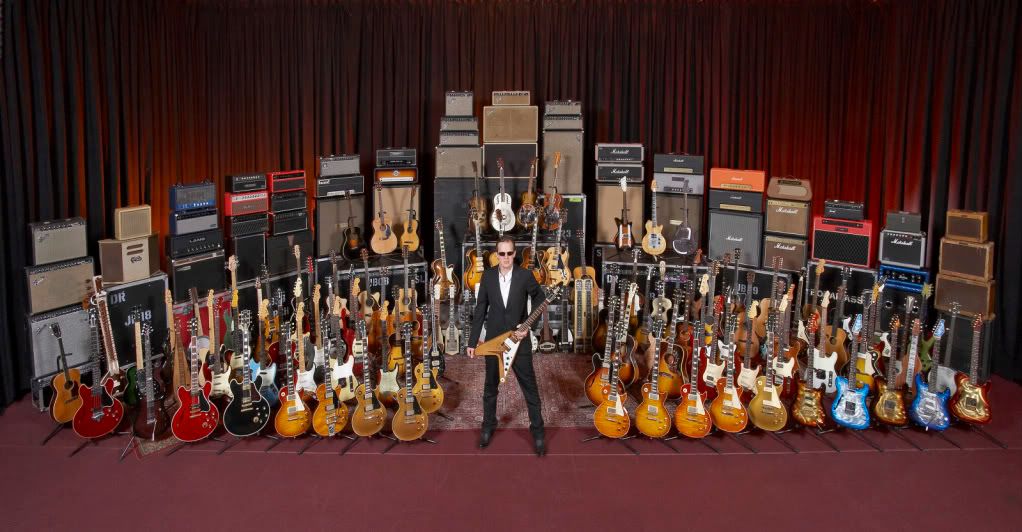 Live Photography courtesy of and credited to Christie Goodwin, Thank You