If there's one thing Less Than Jake have experience of, it's playing live. Given that they've been touring and recording for nearly twenty years now, you could almost forgive them for turning up, knocking out their songs and leaving. Thankfully for the couple of thousand strong crowd, that's not the way Less Than Jake like to conduct their business.
Opening with the typically rousing "Plastic Cup Politics," anyone in the vicinity who were not aware of what Less Than Jake are all about would have been left in no doubt with vibrant horns, raucous group choruses, and just a general sense of music for music's sake, playing to enjoy and excite. And how - after the opener, the band seamlessly leap into 'Liquor Store' - a live staple, fan favourite, and given that it's now 15 years old, probably deserving of classic ska punk track status.
No haughty claims of starting a musical revolution, no pretentious stage leanings and brooding front men trying too hard. Just a great band putting on a great ska punk show.
The casual throwing in of an old classic was indicative of the set. Rather than completely focusing on their last couple of albums, which have had a slight move away from the bands traditional ska sound to a more pop-punk style, there was a good selection of tracks spanning the bands career. One of the biggest cheers of the night came when singer Chris Demakes announced "Let's pretend it's 1997 again and our album Losing Streak just came out" - the vast majority of fans, myself emphatically included, were receptive to this idea given the triumphant mass of pogo-ing fans that accompanied another live standard, 'How's My Driving Doug Hastings?'.
The joyous reception to these old classics was reciprocated by a band who seem to genuinely enjoy playing live. No plugging off a questionable new album, no haughty claims of starting a musical revolution, no pretentious stage leanings and brooding front men trying too hard. Just a great band putting on a great ska punk show. It's surprisingly refreshing these days to see a band unconcerned with anything other than enjoying their music and the crowd enjoying it back.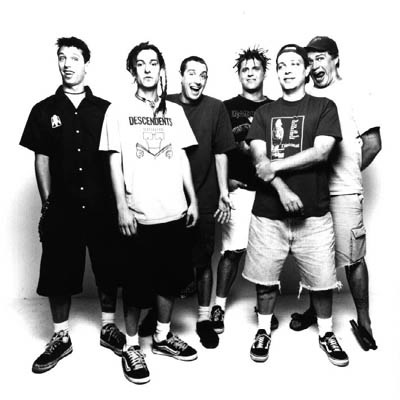 I've never seen Less Than Jake before and on a personal level I was delighted with the choice of tracks from their late 90s era - songs like 'Automatic' and 'Nervous In The Alley' sounded just like I imagined they would, and judging by the reception from the crowd, I wasn't the only one appreciative of the energy they put into songs, songs that they've been playing for so long that lesser bands would probably be bored of by now. In between songs the band invited random crowd members on to the stage, advocated the beating up of the salesmen outside selling bootleg gear, and tried (unsuccessfully) to get the security staff to engage in a drinking contest with them. I am not normally a fan of on stage "antics," but with Less Than Jake it seemed par for the course so even a hardened cynic like me managed a smile.
The undoubted highlight was the encore - 'All My Best Friends Are Metalheads,' maybe their best known song, and probably their biggest single. Somehow I'd completely forgotten that they hadn't played it, but there was instant recognition as the intro kicked in. As the chorus was pelted out, the band were at times indiscernible over the raucous crowd. Suddenly it was 2001 again, when ska was the best genre ever, Less Than Jake were more important than The Beatles and things were generally simpler. Whether everyone else in the crowd would ascribe such lofty power to a punk rock song is debatable, but for all their light heartedness and enjoyable live show, Less Than Jake are in many ways a band that actually mean a lot to their fans. For all their years of great music, putting on quality live shows like this is probably the biggest reason for that.